GrooveFunnels or Clickfunnels? Are they similar? Which one should I pick? How to decide which one would be better for me?
You may have hundreds of questions in your mind on GrooveFunnels or ClickFunnels. But I guarantee that you will have answers to all your questions here because:
I'm using both platforms, enjoying the benefits of both, and suffering from their drawbacks. So, I know what I'm talking about here.
With my user experience, I have reviewed each of the aspects of both platforms.
Also, We have gathered the most popular question from the web, the forums, and the Q&A sites and came out with related answers.
So, we are confident whatever your queries are, you'll get a correct answer from this piece.
A Good News and A Bad News For You:
Let's start with the bad news first. The review and the comparison of GF and CF here will be pretty long, almost 7000 words.
And the good news? You do not have to go through the entire content if you want to. I have included a clickable "Table of Contents."  If you want an answer to a specific question, you can jump right into your desired section with the help of the Table of Contents. You also can go back to the Table of Contents if you are interested in reading another Section.
So let's begin.
Important update from GrooveDigital:
GrooveDigital team has recently changed the name "Groovefunnels" to Groove.cm. Groove.cm is a membership site where you can have 18+ crucial digital marketing apps under one roof, including the apps like GroovePages, GrooveFunnels, GrooveMail, GrooveBlog, GrooveVideo, and many more. So you need to read "Groove. cm" whenever you get the mention of "GrooveFunnels."
Table Of Contents
Part1 GrooveFunnels Review
1.1 What Is GrooveFunnels?
GrooveFunnels is a membership site that provides a collection of vital apps for Digital Marketers. With the help of the apps, you can engage in all the activities required for online marketing.
The primary app of the Groovefunnels membership site is the app named GroovePages. It is a web page, marketing funnel, and website creating software. Sometimes GrooveFunnels represents GroovePages and vice-versa.
1.2 What Are The Apps of GrooveFunnels, and What Are Their Features?
Currently, there are twelve apps inside the member area of Groovefunnels. And most of them are fully functional with their core features, but a few are in the beta stage. And there are a few apps under the "Future GrooveFunnels" drop-down menu in the member-area dashboard.
Also, there are some apps that the Groovefunnels team has announced. GrooveDigital team of developers is working day and night to release these apps. But they are yet to include in the dashboard.
Here is the list of apps in the Groovefunnels member area:
GroovePages
GrooveSell
GrooveAffiliate
GrooveMail
GrooveMember
GrooveVideo
GrooveKart
GrooveBlog
GrooveDesk
GrooveCalendar
GrooveSurvey
GrooveWebinars (Live)
Apps Announced (Not inside the member area yet)
GrooveProof
GrooveWebinars (Automated)
GrooveStreaming (live)
GrooveStreaming (Automated)
GrooveProof
GrooveQuiz
1.3 What Is GroovePages
GroovePages™ (GP) is an easy-to-use drag & drop page builder app (like Kartra). It can create the following without any knowledge of design or coding:
Stunning looking landing pages 
High-converting sales funnels 
A fully-functional website with all the features 
GP app (similar to kartra), an exceptional marketing tool, gives you a visual editor to design your web pages and sales funnels. There are a lot of built-in and customizable templates for almost every niche imaginable.
Do you want to create a site or a sales funnel for a dentist? A few templates are available for you! You can customize the templates and personalize them. It also provides built-in drag & drop blocks and elements to make your effort easy.
A variety of built-in blocks and components are available inside the GroovePage dashboard. These include images, video, text, boxes, timers, form code, dividers, etc. You drag the elements and drop them on your visual page editor. BTW, the blocks and components are customizable too!
Groovefunnels provides detailed analytical stats site-wise and page-wise and allows you to host custom domains.
Free members can create up to three websites with unlimited pages. In comparison, there are no upgraded members' restrictions.
1.4 What Is GrooveHosting
There is no mention of GrooveHosting inside the Groovefunnels dashboard. But we thought it would be good to let you know the Groovefunnels membership comes with free web hosting. And both free and upgraded members enjoy their hosting without any additional cost.
There is one more vital aspect to talk about on GrooveHosting. The web pages and sales funnels hosted with GrooveHosting load faster on the browsers, and the page loading time is less, which is suitable for Google ranking. Besides, Groove uses the fastest Google servers for hosting & bandwidth and covers all the costs. The GroovePages uses the latest framework called progressive JavaScript framework Vue Js. In comparison, all other platforms are still using a decade-old technology called Bootstrap.
1.5 What Is GroveSell
Groovesell is a world-class online shopping cart, affiliate, and payment gateways management tool. It has built-in shopping cart features and provides detailed analytics data on every action. You can promote your physical products, digital products, online courses, or services through Groovesell. At the same time, you can take payments and manage your affiliates.
Groovesell is equivalent to Samkart ($2388/yr) or PayKickStart ($3588/yr). But you can use the platform free with your free Groovefunnels account.
1.6 What Is GrooveAffiliate
The GrooveAffiliate is the affiliate program of the Groovefunnels membership site. And it comes automatically with Groovefunnels free or upgraded membership. No members need to apply to enroll in their program. Groovefunnels pays a 20% commission to a free member. And a whopping 40% to an upgraded member. Also, there are 10% tier-2 commissions for free members and 20% tier 2 for upgraded members.
GrooveAffiliates comes with detailed analytic data on every action.
1.7 What Is GrooveMail
GrooveMail is the Customer Relationship Management (CRM) automation App. Its service is equivalent to ActiveCampaign or Aweber. The free members can store up to 500 contacts in their accounts. Members with higher pricing plans can manage 25,000 contacts with unlimited sending.
1.8 What Is GrooveMember?
GrooveMember is the membership website creation app. It lets you control access levels and delivery options to the members.
In a nutshell, GrooveMember is a subscriber-only membership platform where only subscribers can assess specific digital products, courses, content, or resources.
1.9 What Is GrooveVideo
GrooveVideo is equivalent to YouTube, Wistia, or Vimeo. You can upload, store, and manage your videos inside GrooveVideo. It is a valuable resource for the creators of video courses. Upgraded members can upload and manage unlimited videos, while it is 15 for free members. GrooveVideo comes with detailed analytics of your usage.
1.10 What IsGrooveKart
GrooveKart is the eCommerce platform. It is equal to Shopify, but its built-in features are much easier to manage than Shopify. Moreover, you do not have to buy or install additional themes or apps, unlike Shopify.
1.11 What IsGrooveBlog
GrooveBlog is a content publishing platform with built-in blog features. Unlike WordPress, it doesn't need multiple plugins to manage various functions.
The schedule of the GBlog release is due on December 21, 2020. Both free and upgraded members can use GBlog without extra cost.
1.12 What Is GrooveWebinars
GrooveWebinars™ Live is another part of the Groovefunnels suite for webinar hosting. You can host both live and automated webinars. Also, you can integrate your webinars with all your funnels, carts, and auto-responder.
1.13 What Is GrooveDesk
GrooveDesk is the tool for managing the technical support of your business. It is a built-in help desk provided for you. You can solve tickets, answer inquiries, and provide general assistance to your customer.
1.14 What Is GrooveCalendar
GrooveCalendar™ is a built-in app for scheduling your meetings, events, calls, and checking your availability. You can set up a system that automatically books appointments with your leads. You can integrate GrooveMail with GCalender to send email sequences to your client and automatically book an appointment.
1.15 What Is GrooveSurvey
GrooveSurvey app helps to get customer data by running surveys and quizzes. It is equivalent to Response Suite ($828/year) on the market. But the members of Groovefunnels can access GrooveSurvey without extra cost.
Check a video of Milke explaining GrooveFunnel, its features, and more.
1.16 Who Created Groovefunnels?
A person named Mike Filsaime & his team, John Cornetta, Mattijs Naus, and Matt Serralta, created GrooveFunnels. Mike is the CEO and co-founder.
Mike is an entrepreneur, digital marketer, online marketing coach, and consultant. Also the author of a couple of books. He has been one of the online marketing industry leaders for a long time now. He has produced several software solutions that have helped businesses gain success. Software like Kartra, WebinarJam, and EverWebinar – he's the man behind them. His experience with Kartra evoked the vision to create the Groovefunnels.
Part 2 ClickFunnels Review
2.1 What Is ClickFunnels?
ClickFunnels is a SaaS (software as a service) membership site. It helps digital marketers and entrepreneurs create great landing pages and sales funnels for their online courses.
Clickfunnels, the sales funnel builder, provides a drag & drop visual editor to the members. It also furnishes many built-in and customizable templates and elements. So with the help of the drag & drop editor, members can create landing pages and sales funnels with ease in a few mouse clicks.
The primary task of Clickfunnels is to help create landing pages and sales funnels. But it is also a sales platform that provides a few services to boost sales and marketing related to the Funnel. We will discuss all the tasks of the Clickfunnels in the "feature" section.
2.2 Who Created ClickFunnels Sales Funnel Builder?
Famous Russell Brunson and his team created the Clickfunnels back in 2014. He popularized the concept of a sales funnel and delivered his idea through Clickfunnels software. But it is a sales platform that provides a few collective services to boost sales and marketing related to the Funnel.
We will discuss all the tasks of the Clickfunnels in the "feature" section.
Russell is a veteran of online marketing with a solid track record. Selling online is his specialty, and he is an authority in this field. He worked with many other online marketing giants in his long career.
The funny thing is, Russell Brunson is also a friend and STUDENT of Mike.
2.3 What Are Features Of Clickfunnels
2.4 ClickFunnels Features#1: User-Friendly Drag & Drop Page Builder
The primary feature of Clickfunnels is its page & sales funnel builder app. An app is an excellent tool for building functional and professional-looking web pages and sales funnels.
There are customizable templates for almost every niche and every professional. You have to select a niche template of your liking and edit it to personalize.
Other than the regular sales funnels and follow up funnels, you also can make the following platform-specific funnels with Clickfunnels visual editor:
Webinar Funnels. 
Hangout Funnels. 
Membership Funnels. 
Auto Webinar Funnel 
Also, you can add the following pre-designed customizable page to your funnels and follow up funnels:
Order Pages. 
Upsell Pages. 
Downsell Pages 
Clickfunnels provides funnel-wise stats to get an accurate view of the behavior of your Funnel. You'll be able to view stats like page views, opt-ins, sales, earnings per page view, etc.
There are three prominent Clickfunnels apps other than the page, sales funnel, and follow-up funnel builder. The purpose of these apps is to make your pages and funnel marketing easier. These are:
ClickFunnels CRM- Actionatics 
Backpack 
Built-in shopping cart 
2.5 ClickFunnels Features#2: Clickfunnels CRM- Actionatics
Actionatics is the customer relationship management (CRM) app inside the Clickfunnels membership site. It stores contacts, creates email lists, and sends broadcast and automated emails. Also, it gives you action stats of your contacts' engagement. Like other email service providers, like Aweber, MailChimp, Drip, etc.
However, anybody cannot have a membership of Actionatics, unlike Aweber, MailChimp, or Drip. You must have a membership of ClickFunnels at the Platinum version ($297/pm) or higher to use it on your online business.
2.6 ClickFunnels Features#3: Backpack
The backpack app is the affiliate regulatory system for each Funnel you build with Clickfunnels. It is similar to any affiliate marketing and payment gateways management platform of the market, like WarriorPlus or JVZooo.
The tasks of the Backpack app are:
setting up an affiliate program for your business 
creating commission plans for your affiliates 
integrating your affiliate program with sales funnels 
providing stats of clicks and sales of your affiliates 
manage affiliate payments 
and more. 
Just like Actionitic, Backpack is also the member-only app of Clickfunnels. Again, it is only available to the $297 per month Etison plan (platinum) members. The members with $97/M do not have access to the Backpack app.
2.7 ClickFunnels Features#4: Built-in Shopping Cart
Clickfunnels has its' own built-in shopping cart with order-bump functionality. You can add buttons on products or services and connect to the built-in customized checkout page. With the availability of the Order-bump, you can advertise another related offer on the checkout page.
Part3 GrooveFunnels VS. ClickFunnels – Comparison
We are getting into the most exciting part: comparing Groovefunnels and Clickfunnels. But why compare the two? There are two reasons:
#1 Reason is that we noticed the two standing in front of each other like two male gorillas, ready to fight!
The Groovefunnels vs. Clickfunnels fight for the sales-funnels builder market share has begun. The Groovefunnels is still in the beta stage but has already acquired 119.3K members in a flash. But, not all the members are paying member, as Groovefunnels offer a free membership. So it would be interesting to figure out which horse has the strength to stay ahead.
#2 Reason is to make it easy for you to decide as we have laid the total reviews of the Groovefunnels and Clickfunnels. So, you know what they are and what they do. And now, we are going to compare them feature by feature. So that you can understand their strength and you can reach your decision.
Let's begin the comparison with their CEOs'.
3.1 Mike Filsaime Vs. Russell Brunson

You will be surprised to know that Mike of Groovefunnels and Russell of Clickfunnels were friends. Also, Mike was a MENTOR to Russell once.
They were friends, did business together, and promoted their works. And they were both successful in their respective field. Both have been in the market for almost three decades. There are plenty of exciting stories about them and their online activities.
Let's talk about their strengths and weakness.
Mike's advantage is a passionate and innovative marketer and a software developer. He understands code. That's where his special attention is, and that's how his mind works, combined with a passion for marketing.
He is also the second to make a million-dollar-day, after John Reese, with his "The Butterfly Marketing" online courses. Again, he founded many SaaS like Kartra, WebinarJam, and EverWebinar. His experience with Kartra evoked the vision to create the Groovefunnels.
On the other hand, Russell Brunson of Clickfunnels is very good at marketing. He knows and implements all the tricks of online selling and making money. But he doesn't understand coding, framework sort of things.
Next, we will try to figure out how their knowledge and characteristics put the Groovefunnels vs. Clickfunnels rivalry in a rather exciting context that continues to this very day.
3.2 GrooveFunnels vs. ClickFunnels – Similarities
We have discussed all the features of Groovefunnels and Clickfunnels above. Now, it will be easier to find similarities between the two. We have discovered thirteen similarities between the two platforms, as discussed below:
3.3 GrooveFunnels vs. ClickFunnels Similarity #1. Easy To Use
Yes, they are, no doubt about it. Both platforms are so easy to use that even a beginner could make a fully-functional marketing funnel within a few hours of labor.
Both the platforms provide a drag-and-drop visual editor and all the built-in elements needed to make pages and funnels. You just drag a part, drop it on your visual editor and customize it to your liking with a few clicks. That's it.
3.4 GrooveFunnels vs. ClickFunnels Similarity #2. Varieties Of Templates
You do not have to scratch your head about how your page and funnel design would be! As both platforms have a comprehensive selection of built-in templates.
All you have to do is select a template according to your business type. And then customize and adjust it according to the need of your brand. That's all!
3.5 GrooveFunnels vs. ClickFunnels Similarity #3. Learning Curve
I would be happy to say there is no learning curve with Groovefunnels or Clickfunnels. But it would be a false statement. Indeed, you have to spend a few hours to a few days to learn how things work, with no exception.
But before you freak out, I like to assure you the learning curve is not as complicated either! And good news for you is both platforms have done an up-to-the-mark job of educating you.
Groovefunnels serves you with the tutorial contents and video tutorials via GrooveDigital Academy. They also communicate with their interactive Facebook page. Again, Groovefunnels runs a weekly webinar to teach all the nitty-gritty of GrooveFunnels.
Clickfunnels success is built on information products like books and online courses. They also maintain an active Facebook page and run a few webinars but not regularly.
You don't have to sweat much to master Groovefunnels or Clickfunnels if you want to.
3.6 GrooveFunnels vs. ClickFunnels Similarity #4. Funnel Sharing
Suppose you are done creating your sales funnel, and now you want to share it with other people. Can you do it with the Groovefunnels or Clickfunnels?
The obvious answer is yes, but in a slightly different way. Clickfunnels gives you a unique URL. And any other Clickfunnels users can clone your sales funnel with that URL.
Groovefunnels will allow you to import any page on the web. You'll have the ability to hack any design and website template of your liking from the web.
3.7 GrooveFunnels vs. ClickFunnels Similarity #5: A/B Testing Ability
Okay, you build a few funnels for the same outcome by changing colors, look and copy. And now you want to see which one performs better. Can you do it with Clickfunnels or Groovefunnels? A/B testing?
Yes, for Clickfunnels. Clickfunnels allows you to split-testing your different sales funnels.
The Feature is crucial for a business, and many Groovefunnelss members are demanding it. But Groovefunnels doesn't have such a feature yet. But I guess they will include it soon.
3.8 GrooveFunnels vs. ClickFunnels Similarity #6. Membership Management
Both platforms have a membership management system that allows you to create a membership portal for your content.
You can give people access to the membership portal in several different ways. Groovefunnels has the GrooveMember app. It helps you organize all your content into multiple categories and sub-categories. Also, shield them all inside your membership portal.
You can provide people with free access to which they don't need any login info. You can give them a login that is based upon a purchase. It will allow you to set different access levels and engage in drip campaigns.
Clickfunnels also has a primary built-in membership funnel feature. But it lacks relevant features for creating full-blown membership sites.
3.9 GrooveFunnels vs. ClickFunnels Similarity #7. Affiliate Management Tool
If you want to see growth, you must acquire Affiliates for your business. Also, it would be best if you managed your Affiliates at different levels.
The good news is both platforms have a feature that lets you manage your affiliates.
Groovefunnels has a built-in and in-house affiliate management tool. You can use the GrooveSell app to sell your products and manage affiliates. You can use the app at no cost, as it comes automatically with the Groovefunnels Free membership.
Clickfunnels has an affiliate regulatory system called the Backpack. However, a starter member (97/Month) doesn't have access to it. You need a $297/Month membership to use it. Also, they don't have any in-house system. They use a third-party platform called Tipalti.
3.10 GrooveFunnels vs. ClickFunnels Similarity #8. Email Marketing Management Tool
Both platforms have a built-in CRM and Email marketing management system. Both are good at storing contacts, creating email lists, and sending emails. Also, both give you action stats of your contacts' engagement.
GrooveMail app is the email-marketing-management system inside the Groovefunnels dashboard. A free Groovefunnels member also can use GrooveMail with some limitations.
Actionatics is the CRM for Clickfunnels, which has the same ability as GrooveMail. But only a Platinum-level member ($297/month) could access the Actionatics.
3.11 GrooveFunnels vs. ClickFunnels Similarity #9. Affiliate Programs
Both Groovefunnels and Clickfunnels offer lucrative programs with the potential to make you a lot of money. But have a slightly different commission structure for their affiliates.
Groovefunnels offers two-tier affiliate commissions. Free members get 20% commissions for a sale and 5% 2nd tier commissions. Upgraded members get double, 40% and 10%. And there are two types of commissions, one for free members and another for upgraded members.
The GrooveAffiliate app manages the Groovefunnels affiliate program. You will get the dashboard with analytics once you sign up for the Groovefunnels account, whether your account is free or upgraded. You don't need a separate application to become an affiliate.
Also, each person you refer is hard-coded to your affiliate account for life. There are no possibilities of missing a commission from your referral even if they switch their devices or upgrade ten years later. You are guaranteed to receive your commission, no matter what.
Clickfunnels offers a recurring commission of 20% on each referred client, as long as they remain an active customer. Clickfunnels does not provide any Tier 2 commissions anymore.
Other than the recurring commissions, it offers a few different incentives— like the chance to win a car. Or, if you refer enough people to the platform, your commission level can rise to 40%.
3.12 GrooveFunnels vs. ClickFunnels Similarity #10. Sales Platforms and Shopping Carts
Both platforms come with a built-in shopping cart and check-out features, with the ability to 'order-bump.'
Groovefunnels has a separate app called GrooveSell. It is a fully-loaded sales and affiliate management platform. And it allows you to receive payments for physical and digital goodies, subscriptions, and services.
3.13 GrooveFunnels vs. ClickFunnels Similarity#11: Online Communities
Both platforms have great Facebook communities that you can use for help, support, and networking. Groovefunnels' official Facebook group currently has over 119,278 active users, while Clickfunnels — has almost 255,546.
Both groups are beneficial for practical advice on building funnels and using the platforms in general.
3.14 GrooveFunnels vs ClickFunnels Similarity #12: Customer Service & Support
Clickfunnels support used to be quite unsatisfactory. However, the current situation has dramatically improved, and users can benefit from fast and to-the-point customer support through live chat and email. Some membership plans even get special access to dedicated support and VIP phone assistance.
Groovefunnels, on the other hand, has an in-built dedicated support app — GrooveDesk. It works pretty much like Zendesk. Their support team is pretty responsive and accommodating. The ticket system is robust, and the chat offers great real-time assistance when an issue arises.
3.15 GrooveFunnels vs. ClickFunnels – Dissimilarities
3.16 GrooveFunnels vs. ClickFunnels Dissimilarity #1: Capacity and Potential
I have studied Groovefunnels and Clickfunnels meticulously and discovered a few dissimilarities between them. The most crucial discrepancy between them appeared to be their capacity and future potential. But it did not surprise me. Here's why:
Clickfunnels is a remarkable tool, and currently, it does its job remarkably well. But as a SaaS, its capacity to expand is limited as it uses the nine-year-old Bootstrap framework technology. More and more advanced frameworks came to the surface after that.
On the other hand, Groovefunnels uses the latest progressive JavaScript Vue js framework that allows an extraordinary capacity to expand. Also, Groovefunnels uses the fastest Google servers for hosting & bandwidth and covers all the costs.
As for the future, it appears to me Groovefunnels has the upper hand as well.
Clickfunnels started as a page builder software and added a few more digital marketing functionalities.
Also, Russell Brunson is excellent in marketing but does not know software development. He hires and relies on other people for that reason.
On the other hand, Mike has a proven track record of complex software development. He also is a proven marketing genius; his one million dollar day launch of the "Butterfly Marketing" course proves that.
Unlike Clickfunnels, Groovefunnels did not hit the market merely as a page builder supported by a few digital marketing solutions. It was designed as a complete answer to every aspect of digital marketing-need. So, Mike, a software developer and also a marketing mastermind, visualized the whole Groovefunnels framework as a comprehensive digital marketing platform.
So, Groovefunnels is the winning horse to me, over Clickfunnels, with all its' capacities and potential.
3.17 GrooveFunnels vs. ClickFunnels Dissimilarity #2: Video Hosting Capability
One of the vital and distinctive factors between Groovefunnels and Clickfunnels is Video hosting. Groovefunnels has a video hosting platform called GrooveVideo, while Clickfunnels lacks this Feature.
Now, let's understand the advantages of private video hosting capability. Any digital marketer would love to have their video hosting library. For instance, they can easily host their video and connect it to their sales pages. Also, they can create video tutorials or podcasts and connect them to their membership sites.
Of course, they can host videos with third-party free platforms like YouTube. But YouTube won't give you the customization options you may need for your marketing.
Now, the video hosting Feature in Groovefunnels has just rolled out. You can host your video but cannot utilize many customization options like tagging or adding a call-to-action on the video. But the Groovefunnels team is working very hard and announced a schedule to roll out those options.
While the Video marketers could thrive with Groovefunnels' Video hosting, ClickFunnels hasn't announced any video hosting feature yet.
3.18 GrooveFunnels vs ClickFunnels Dissimilarity #3: FunnelFlix
FunnelFlix is the digital marketing tutorial library. You can say FunnelFlix is a goldmine of online education. Russell Brunson has done a great job piling up high-quality courses and training modules. And these tutorials cover all most every aspect of digital marketing. Basic and advanced tutorials are there, so newbies and veterans could benefit.
But only the platinum ($297/Month) members of ClickFunnels can access it.
3.19 GrooveFunnels vs. ClickFunnels Dissimilarity #4: Calendar Feature
The inclusion of the Calendar tools in Groovefunnels has created a dissimilarity with Clickfunnels.
When we are talking about a calendar, we mention a digital calendar. A digital calendar can automate a few things to keep you accountable.
The essential component of a digital calendar is to schedule meetings. You'll never miss a meeting with your clients with the automated features. Also, your client will never get disappointed trying to set up an appointment with you. There will be no need to go back and forth with emails, SMS messages, or chat.
3.20 GrooveFunnels vs. ClickFunnels Dissimilarity #5: Helpdesk
The GrooveDesk feature's inclusion will create another dissimilarity from Clickfunnels.
Groovefunnels will launch the GrooveDesk app soon with the features of:
Submitting support tickets 
accessing an in-depth knowledge base 
providing real-time help via chat 
Clickfunnels doesn't have an in-house solution and runs its' support with third-party software.
3.21 GrooveFunnels vs. ClickFunnels Dissimilarity#6: Page Loading Speed
The factor of page-loading speed has created another crucial difference between the Groovefunnels and the Clickfunnels. The pages created using Groovefunnels load faster than Clickfunnels and any other platform. It is a vital ranking factor.
The reason is that Groovefunnels uses a progressive JavaScript framework called Vue.js, which preloads the entire HTML structure without pinging the servers. Also, Groovefunnels uses the fastest Google servers for hosting & bandwidth.
3.22 GrooveFunnels vs. ClickFunnels Dissimilarity#7: Blogging Platform
You cannot blog with Clickfunnels, but the Groovefunnels blogging platform had already rolled out in 2021. 
3.23 GrooveFunnels vs. ClickFunnels Dissimilarity #8: Affiliate Management
Instead of using a third-party affiliate management system like Clickfunnels, Groovefunnels has created its' own, named the GrooveAffiliates. By providing an in-house affiliate management system, Groovefunnels put itself ahead of the Clickfunnels.
3.24 GrooveFunnels Vs. ClickFunnels – Weaknesses, And Flaws
3.25 ClickFunnels Weaknesses, And Flaws
Clickfunnels is the most popular landing page builder and funnel-building platform for digital marketing. It has been serving the market for almost a decade. And age is the precise reason for surfacing a few crucial weaknesses.
One of the noticeable drawbacks is that the technology used to build Clickfunnels is nine years old, and they cannot revamp the platform with the newest technology. Also, a drastic increase in members forced Russell to close down or restrict a few features and membership plans.
Here are some Weaknesses, And Flaws we discovered in Clickfunnels:
3.26 Restriction On Basic Plan
The Basic pricing plan is $97 a month, but the price plan offers very little. Firstly, it limits the number of pages and funnels. Secondly, it restricts essential features like CRM (Actionatics) or Affiliate management tool (Backpack).
3.27 Lack of Video Hosting Feature
Another weakness of Clickfunnels is that it doesn't have a video hosting feature. Clickfunnels could not become a complete digital marketing suite for this reason.
3.28 Lack of Calendar
We consider the lack of a Calendar feature is another significant flaw of the Clickfunnels. Many members miss a meeting with their clients unless they use a third-party Calendar.
3.29 Helpdesk Features
A practical and robust in-house helpdesk was required for a membership site like the Clickfunnels. We consider using a third-party platform a significant weakness.
3.30 No Content Marketing Feature & Overall Weak SEO
We consider the lack of content marketing features like blogging as one of the critical weaknesses of Clickfunnels. Also, Clickfunnels fails to address SEO issues like page loading, etc.
3.31 GrooveFunnels Weaknesses, And Flaws
Unlike Clickfunnels, Groovefunnels' blueprint focused not on funnels but the overall digital marketing process. So the team at GrooveFunnels has to build everything needed in a marketing platform from scratch. However, developing all those features takes a considerable amount of time, so the platforms' feature rollout will happen over an extended period.
While using Groovefunnels, we discovered the following flaws:
3.32 Weaknesses#1 Beta-Stage Lifted Only Recently
The GrooveFunnels beta has been lifted recently, and that's still the most critical weakness of the GrooveFunnels. Most of the features have rolled out, but a few Features inside the "Features Tab" are yet to come out. So, members right now cannot use them to their heart's content!
But the exciting thing is, the most critical weakness of the Groovefunnels will be most advantageous after rolling out every Feature. The road map extends through 2020 and into 2022, with a few essential features being postponed for later dates.
3.33 Weaknesses#2 Insufficient Training Material
Suppose you joined Groovefunnels as a free member, and you want to use its features. What would be the first thing you will be looking for? Of course, the training materials for learning how to operate! But you'll find only a few training videos and materials inside your membership area.
There are training materials, but they are not sufficient. However, the team Groovefunnels is fast adding training materials. Still, we consider as a weakness of Groovefunnels but understand this will go away with time.
3.34 Weaknesses#3 Glitches & Bugs
Using the fully released apps, we found some glitches here and there. But the good thing is the Groovefunnels team has created a system for reporting the bugs. The developer's team addresses the issues as soon as you report any glitches or bugs.
3.35 Weaknesses#4 Limitations of Lifetime Free Option
GrooveFunnels claim that anyone can sign-up for free, stay a free member for life, and use a few apps with some limitations. But we understood that you could not use free membership for life if you're running and growing your business. Because you'll need more functionality and apps as you grow. In that case, the only solution would be acquiring a Pro-membership of Groovefunnels.
3.36 GrooveFunnels Vs. ClickFunnels – Pricing Comparison
3.37 GrooveFunnels Pricing
The CEO of GrooveFunnels, Mike Filsaime, had a strategic plan to make the Groovefunnels pricing easy and affordable to all! So he did something extraordinary, something that never has been done before!
He started with a Free-for-life membership plan called the Base plan. What could be more affordable than a FREE-for-life membership price plan?
You become a free member for life; you use the system, either upgrade to pro (if you see the benefits) or stay free-for-life; what could be the better deal than this?
So, Groovefunnels is offering two types of price plans, and there is a future-price plan and a monthly payment plan yet to roll out. We will discuss each price plan below:
3.38 GrooveFunnels Free-for-life Price Plan: The Base Plan
With the free-for-lifetime platinum plan of Groovefunnels, you can use three essential apps free for life. The apps are GroovePages, GrooveSell, and GrooveAffiliates. Here are the features and resources a free-for-life member can enjoy:
Unlimited Offers at GrooveSell 
Build Brand Websites with full navigation (GroovePages) 
2 tier program at GrooveAffiliate, and also 
Custom Domains (GroovePages) 
Bandwidth and hosting (GroovePages, GrooveBlog, GrooveMail, GrooveVideo, GrooveMember) 
All 12 Apps with limitations 
But there are a few limitations for the free members. Free lifetime members can create and maintain up to three funnels with unlimited pages with GroovePages. Also, free members will get 20% and 5% of two-tier affiliate commissions from the Groovefunnels affiliate program. However, there aren't any restrictions on GrooveSell use.
Note that, at this stage, GrooveFunnels allows the free members to use all the 12 apps with some limitations. But it could be a temporary, special deal. Other than the three free apps, the rest of the nine apps are not free-for-life. They can restrict free access to free members anytime along the way.
3.39 GrooveFunnels Platinum Plan Lifetime Access Upgrade With One Time Payment
I have NEVER seen an offer as incredible as GrooveFunnels Platinum plan Lifetime Access with a one-time payment. But the irony is the deal is recently closed.
3.40 Bonus With GF Platinum Plan Lifetime Access Upgrade:
The lifetime deal is closed, but you still have the Featured guest presentations as a bonus.
3.41 GrooveFunnels Monthly Price Plans- Updated
The monthly price plan has been rolled out. The groove team has announced monthly plans as follows: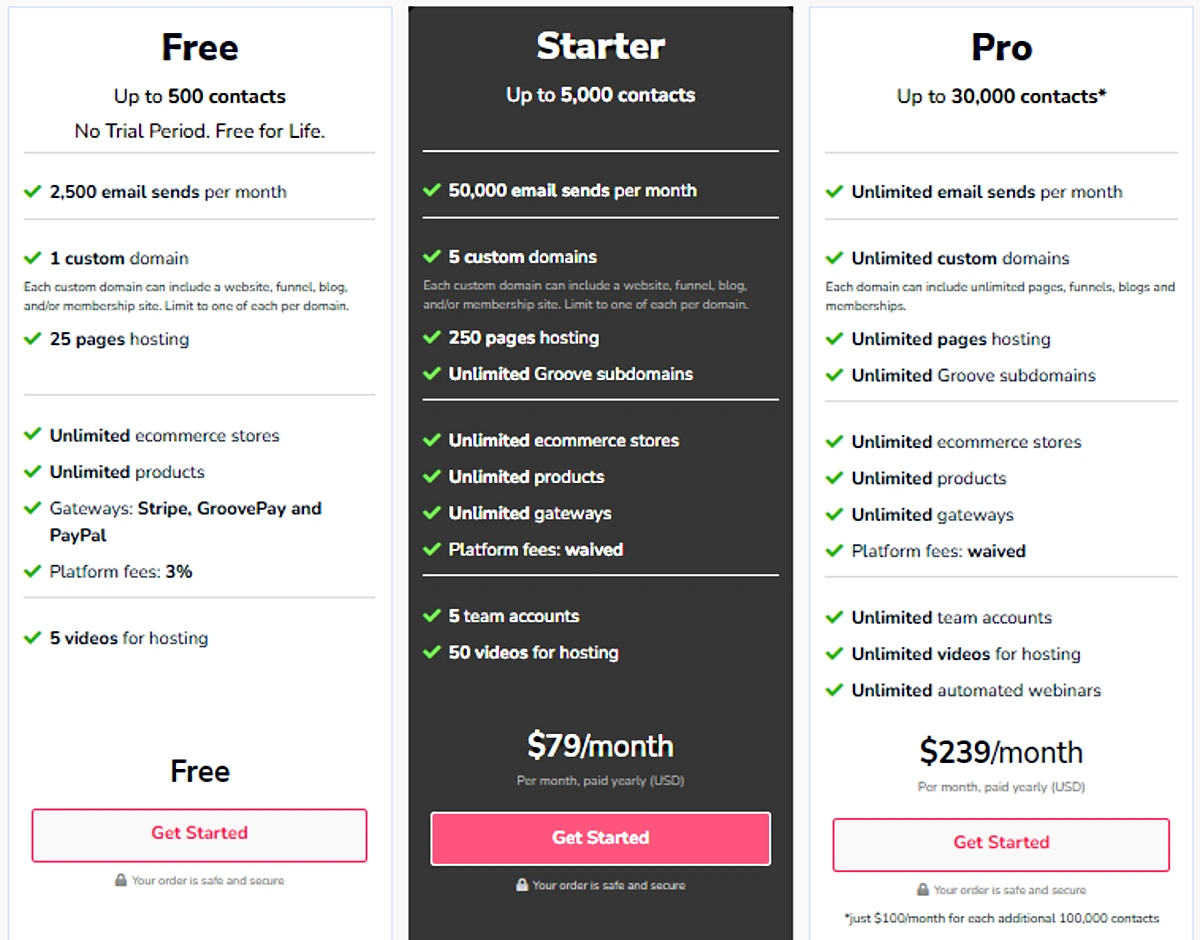 You'll have the option to choose yearly or monthly payments. 
3.42 Click Funnels Pricing
Over the decade, ClickFunnels has altered its' price plans many times. At present, CF is offering three types of price plans.
The starter plan costs $97 per month.
The Platinum Plan costs $297 per month, and
The Two Comma X Plan costs a whopping $2,497 per Month.
All three plans come with a 14-day free trial period.
3.6.1 The Starter Plan ($97/Month)
Access to the features with a starter plan is minimal. Only one user can manage 20 sales funnels with one hundred pages (max.). Also, the user is restricted to three custom domains and three payment gateways. Only the new business could manage with limited access to this plan.
Some of the features are locked in the starter plan, like, follow-up funnels, Aationatics, and Backpack. You can find detailed feature access in the image below.
3.6.2 The Platinum Plan ($297/Month) 
Three users can enjoy unlimited pages, funnels, and follow-up funnels in the platinum pro plan. Also, a total of nine custom domains and payment gateways are allowed.
This plan unlocks priority support and all the features of ClickFunnels, including full access to FunnelFlix. For the detailed features, please check the image below.
3.6.3 The Two Comma Club X Plan ($2,497/Month)
The two comma club X price plan is recently introduced. The features are the same as platinum, but users increased to ten, custom domains, and payment gateways to 27.
3.6.4 GrooveFunnels Vs. ClickFunnels Price Comparison By Features
ClickFunnels is a semi-complete suite with only a few features, while ClickFunnels has emerged as a complete online marketing suite with many features. It is almost impossible to collectively compare ClickFunnels & GrooveFunnels pricing because the components are not the same.
Instead, we can compare the apps of GrooveFunnels and the similar services available online. It will benefit you by knowing the cost of GrooveFunnels against available services. Below image is a detailed comparison: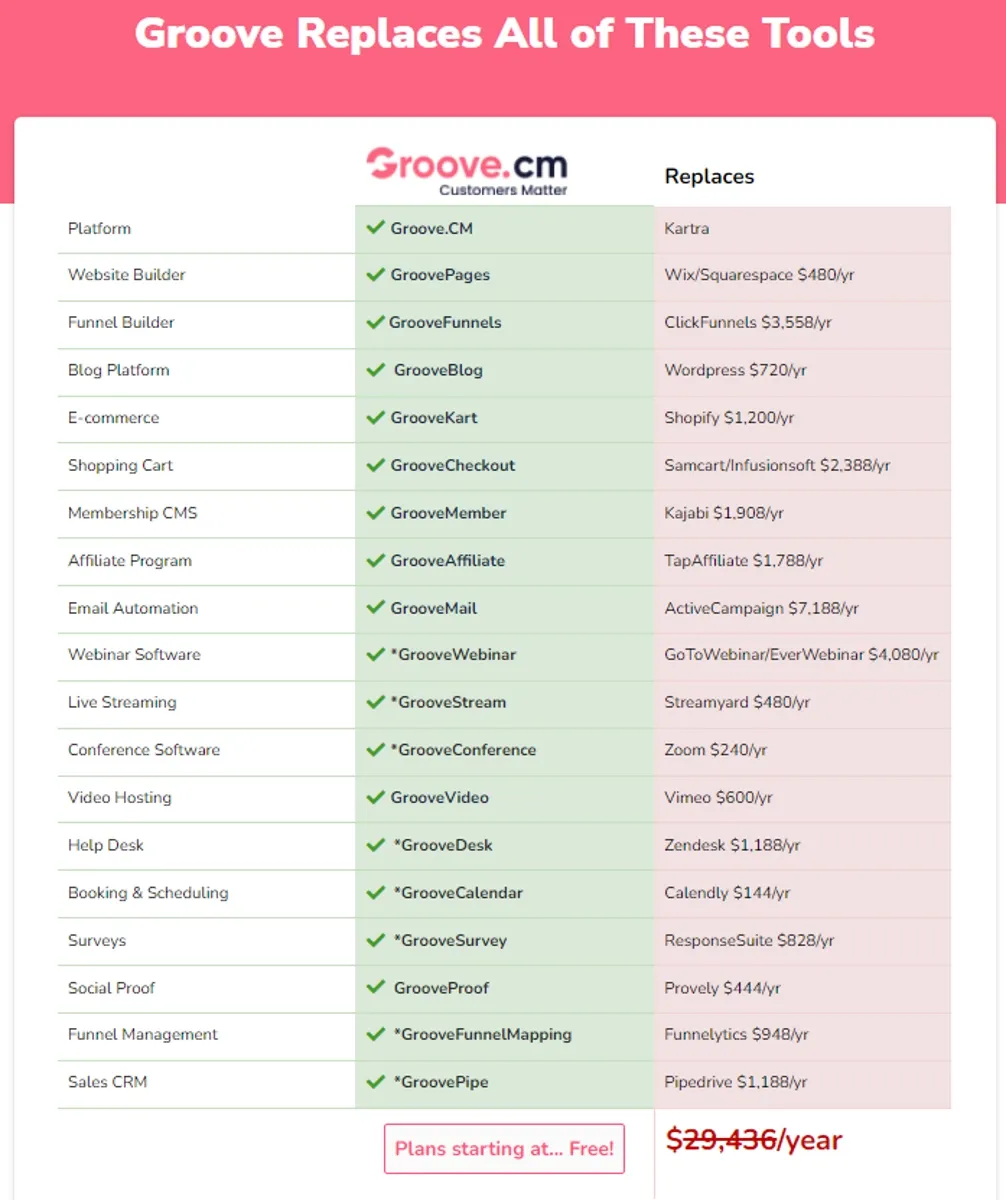 3.43 Our Rating of GrooveFunnels And ClickFunnels Based On The Comparison
We reviewed GrooveFunnels and ClickFunnels with all the features. And we discovered the similarities and dissimilarities. Also, we pulled their upsides and downsides. Below we are giving a summary and our rating based on our discovery. It will help you see the comparison in one place. Also, you may agree with our rating.
| | | | | |
| --- | --- | --- | --- | --- |
|   |   |   |   |   |
|   | Basis Of Rating | CF | GF |   |
|   |   |   |   |   |
|   | Total Features | 3 | 9 |   |
|   | Price Plans | 4 | 10 |   |
|   | SEO Output | 6 | 9 |   |
|   | Usefulness (Current) | 9 | 5 |   |
|   | Capacity (Future) | 5 | 9 |   |
|   |   |   |   |   |
The rating is done from the customers' point of view and on a scale of  1-10.
Part 4 GrooveFunnels Vs. ClickFunnels- Common FAQs
4.1 Q.1 GrooveFunnels vs. Clickfunnels: Which One Should I Buy?
Ans. It is challenging for us to resist recommending GrooveFunnels over ClickFunnels after all the research we have gone through. The pricing plans alone are the no-brainer factor for Groovefunnels.
But the truth is it will depend on your business type. And the purpose of the need for these tools in your business.
If you are looking for a platform by which you intend to manage your entire business, go for Groovefunnels. If you want to make webpages and marketing funnels, go for Clickfunnels, but think twice about its pricing. It surely is going to hurt you!
My opinion? Mike Filsaime will fail to pull the GrooveFunnels to the market? Unlikely. Look at his track records; how many similar software platforms he created running like a top gun! I have known the CEO of GrooveFunnels, Mike Filsaime, for a long time, and I know what he achieved in his long career. 
So Groovefunnels or Clickfunnels, What would it be? I already got my pro access. And you should grab the deal too!
4.2 Q.2 ClickFunnels vs. GrooveFunnels: Who Wins & Why?
Ans. Being an active member of both platforms, I know that Groovefunnels is already in the winning position. And it will be miles ahead of Clickfunnels upon releasing the rest of the Apps.
Let me explain why Groovefunnels wins by miles.
Though Clickfunnels has done a remarkable job for the digital marketing community, its' expansion possibilities will be limited due to the old technology. It started as merely a page builder. On the other hand, Groovefunnels has based on the latest technology to implement the entire digital-marketing activities from one place.
Another vital factor of Groovefunnels winning is the difference between the price plans. While Groovefunnels is super affordable, starting with a free-of-cost plan, Clickfunnels price plans are too pricey!
4.3 Q.3 Is GrooveFunnels Cheaper Than ClickFunnels?
I mean, what could be cheaper than free? You can use three Groovefunnels apps free-for-life and the rest of the apps with some limitations. 
On the other hand, a whopping $2497 per month is needed to use Clickfunnels fully. The Clickfunnels price plan starts at $97 per month with restricted access.
Okay, Groovesters! I'm signing off here. Leave a comment below if you have enjoyed my review and comparison. Also, you can contact me at [email protected] or on Facebook if you have any questions.